Posted in
Accommodation
@
Jul 20th 2014 6:40pm
- By Administrator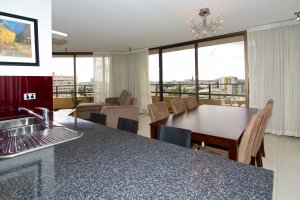 Whenever you're away for a business trip or a convention, it's always important to be as comfortable as possible. Studies show that people who have a more comfortable environment are more likely to succeed in their endeavours. That's why in your business trips and conventions, it is important that your accommodation makes you feel at homes as much as possible.
The Summit apartments in Brisbane provide you a comfort that rivals that of your own home. Our Brisbane serviced apartments has everything you need to give you a sotthing and relaxed atmosphere. We offer a choice of a spacious studio and one bedroom apartments for solo travellers and couples and larger two bedroom apartments for groups. All the apartments are designed to ensure that you get maximum comfort and relaxation. The studio apartments and 1 bedroom apartments contain 1 queen-sized bed or 2 single beds, depending on your choice. The 2 bedroom apartments contain one queen sized bed and 2 singles. To provide you with the comfort of home, all the apartments come with fully equipped kitchenettes with refrigerators, cooking facilities and dishwashers. The apartments also have full laundry facilities. This ensures that you have everything in your room so you don't have to look for other places for service. Each apartments also features a television, a DVD players and a private balcony where you can relax and take in the spectacular view of the city.
Guests can also de-stress with a nice workout in our onsite gym or some by doing some laps in our outdoor pool which is heated during the winter. After that tiring business meeting, feel all your worries and stress melt away in our outdoor spa. You also don't need to worry about your suits because we have them covered with our dry cleaning service.
So for your next meeting, make sure that your accommodation provides you with all the homey comforts that you need.
Book our accommodation now at http://summit.etourism.net.au