Posted in
Local Events
@
Mar 13th 2015 10:37am
- By iLaunch Support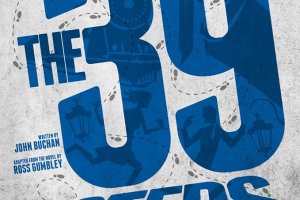 A side-splitting comedy as Alfred Hitchcock meets mayhem. Based on the 1939 Hitchcock thriller, just four actors play more than 100 characters in the heart racing adventures of a handsome hero chased by international spies. It's a rip-roaring night out for the whole family and has already been seen by over three million people in more than 60 countries.
This fast, frothy exercise is throwaway theatre at its finest. 39 Steps isn't using the Hitchcock film as a target for satire but as an accomplice. It uses the cinematic template to celebrate the art of instant illusion-making that is theatre.
A two-time Tony®, Olivier and Drama Desk Award-winning treat.
Catch The 39 Steps at Brisbane Arts Theatre from May 2, 2015 to June 30, 2015.
If you are planning to watch The 39 Steps, you may want to book our Brisbane Corporate Apartments. Our apartments are just a few minutes away from Brisbane Arts Theatre.
We offer a great selection of apartments. Have an enjoyable holiday at The Summit Apartments. Choose from our studio apartments, one bedroom apartments and two bedroom apartments. Our apartments are fully self contained and complete with everything you will need to have a blissful holiday. Our apartment amenities include free WiFi, fully equipped kitchens, refrigerators, cooking facilities, dishwashers, full laundry facilities, private balconies, televisions, DVD players and more. Whether you are travelling on your own, with a small group or with a larger group, book your stay at our Brisbane Corporate Apartments.
Aside from our fully furnished apartments, we also have complete guest facilities. Our facilities include free WiFi, free parking, a gym, a swimming pool, an outdoor spa, a compact tennis court, barbecue facilities, and dry cleaning service.
Be sure to watch The 39 Steps at Brisbane Arts Theatre and book your stay at our apartments.
For booking information, please visit http://summit.etourism.net.au
Image Source : The 39 Steps