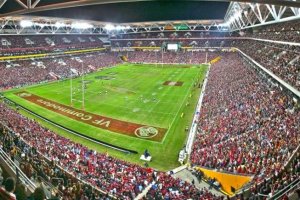 Are you headed to the garden city of Brisbane to watch an international soccer event? Maybe you and your friends are going to band together and cheer for your favourite team in a Rugby Union and Rugby League match. Or maybe your favourite artist or musician is having a concert that you've been dying to attend. Whatever it is, if it's in Brisbane, it's probably happening in Suncorp Stadium. And if it's Suncorp stadium that's your main destination, you would want to book an accommodation that puts you right in the center of the action.
The Summit Apartments in Brisbane is just a fifteen minute walk away from the Suncorp stadium. Booking with us means you avoid the unnecessary traffic and long travel distance on your way to the stadium. That means that won't be late and you'll get the best seats.
Our Brisbane Service Apartments are also in close proximity with the Roma Street Parklands, an idyllic place to stroll, picnic, and unwind. The gardens are blessed with colourful flowers and plants from all over the world. It even has a landscaped garden lake and a subtropical rainforest right in the cetre of Brisbane. Visiting this modern wonder is so easy if you stay at our accommodation.
If it's shopping you're after, Queen Street Mall is also just a short stroll away from our accommodation. Queen Street mall is the Queensland's premier retail destination and home to six major retail centres and over 700 stores and boutiques of both designer and affordable fashion brands.
So if you want to stay right in the centre of the action in Brisbane, book our accommodation now. You can choose between a studio type, 1 bedroom, and 2 bedroom apartments that are fully furnished and elegantly designed, guaranteed to make your stay as comfortable as possible.
Make your reservations now at http://summit.etourism.net.au
Image Source : Suncorp Stadium