Posted in
Accommodation
@
Dec 16th 2014 2:53pm
- By Administrator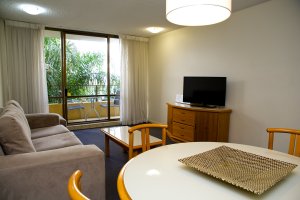 The Summit Apartments has special promos that budget travellers are sure to enjoy. Take advantage of our special offer and book a minimum of seven nights at our studio apartment. Pay as low as $1023 for a seven night stay. Rates vary, so please check our wesbite to get the best deals. Book your stay at our Brisbane Serviced Apartments.
The studio apartment is spacious and comfortable. It is complete with all the amenities you will need to enjoy a relaxing holiday. The apartment amenities include a private balcony with city views, a queen size bed, a fully equipped kitchenette, laundry facilities, free WiFi, a television, DVD player, and more. The studio apartment can accommodate a maximum of three guests. If you are going on a trip with your significant other or even by yourself, book your stay at our studio apartment.
We also have one bedroom apartments and two bedroom apartments which cater to three guests and five guests respectively. Whether you are travelling with your family, friends or co-workers, our accommodation has everything you need to have a relaxing stay.
Aside from featuring elegant well-furnished apartments, our Spring Hill Apartments also have guest facilities for your comfort and convenience. Guest facilities include free WiFi, free parking, gym, swimming pool, outdoor spa, compact tennis court, barbecue facilities and dry cleaning service.
Stay fit and toned by working out in our fully equipped gym. There's no excuse not to work out even when you are on holiday. Cool off with a refreshing swim at our swimming pool. Relax by the pool and enjoy the company of friends. We also have a compact tennis court where you can sweat it out with a couple of tennis matches. Challenge your friends to a game of tennis. After an exciting day of sightseeing, treat yourself to some spa time. We have an outdoor spa where you can soak in and relax. Host a casual barbecue for your friends. You get to save money by cooking in the kitchen or using the barbecue instead of eating out. Stay connected using our WiFi.
Book a minimum of seven nights at our studio apartment and enjoy reduced rates.
For booking information, please visit http://summit.etourism.net.au