Posted in
Local Events
@
Jan 2nd 2015 2:50pm
- By Administrator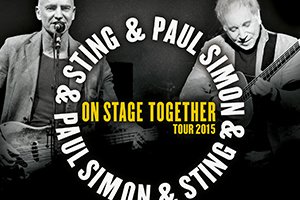 Live Nation Global Touring announced today that PAUL SIMON & STING, two of music's most renowned and enduring artists, will bring their critically-acclaimed ON STAGE TOGETHER tour to Australia.
As long-time friends, the concept for the "On Stage Together" tour originated at the Robin Hood Foundation benefit in 2013 where they performed together for the first time. Both artists, who are known for exploring world rhythms, have pushed the boundaries of popular music and continue to speak to generations of fans.
As exemplified on their North American tour earlier this year, the concerts in Australia and New Zealand will feature two of music's most iconic singer/songwriters blending their voices and their bands while performing their best-known songs both together and apart. In what was one of the most highly-praised North American concert tours of 2014, media and fans alike were unanimous in their reviews.
Catch Paul Simon and Sting Live at Brisbane Entertainment Centre on Tueday 3 February 2015 at Brisbane Entertainment Centre Melaleuca Dr, Boondall QLD 4034.
Tickets cost: Platinum $249.90, Gold $199.90, Silver $149.90, and Bronze $99.90.
If you are planning to watch the concert, you may book your stay at our Spring Hill Apartments. Our accommodation is just a short drive away from Brisbane Entertainment Centre.
We offer a selection of studio apartments, one bedroom apartments and two bedroom apartments which cater to three guests, three guests, and five guests. The apartments are luxurious and comfortable. Complete with all the amenities you will need to enjoy a relaxing holiday, book your stay at our accommodation. The apartment amenities include a private balcony with city views, a queen size bed, a fully equipped kitchenette, laundry facilities, free WiFi, a television, DVD player, and more. Whether you are travelling with your family, friends or co-workers, make the most of your stay at our Spring Hill Apartments.
For booking information, please visit http://summit.etourism.net.au
Image Source : Paul Simon and Sting