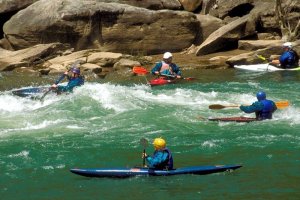 Experience the sights of Brisbane from the water on a guided kayak tour of the magnificent Brisbane River.
Your adventure starts at Kangaroo Cliffs, within easy reach of our Spring Hill apartments. As you make your way along the curves of the glittering Brisbane River, you'll have a rare opportunity to see the city's most famous buildings and landmarks as you've never seen them before. Enjoy fantastic views of the lush Mangroves and Brisbane Botanical Gardens and the much loved South Bank Parklands. You can also admire the little-seen underside of the iconic Storey Bridge as you paddle underneath!
There are both night and daytime packages available, and all tours are led by an experienced kayaking instructor. Everyone's experience starts with an instruction session and full safety briefing. Don't forget to add this unique experience to your Brisbane itinerary!
To find out more, please visit: http://www.riverlife.com.au/
Image Source : Geek Philosopher