Posted in
Local Events
@
Feb 7th 2015 3:27pm
- By Administrator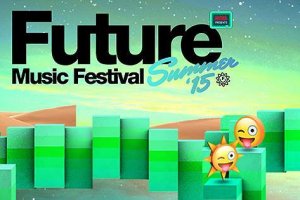 Get ready: the summer's biggest national touring festival is back and bringing you the sound of the future.
Explosive live performances, rumbling drum'n'bass deities, unmissable hip-hop kings and more - it's one outta control line-up! Arrive at the gates ready to go for a full day's journey, epic bass drops under the sun right through to blowing the roof off with huge, climatic headliners. It's on: Future will be the best experience of your summer!
This year's festival features a fantastic line-up, focusing each individual stage on the hottest, most diverse genres around to deliver a truly mind-blowing ride. You won't find a hotter festival line-up! Enjoy the very hottest names in music, coming on the eve of brand new albums and who have dominated the biggest festivals in the world. Leave your expectations at the door - Future 2015 will be one fresh, new, exciting adventure you don't wanna miss.
Be sure to enjoy Future Music Festival 2015 on March 7, 2015 from 12pm onwards. The festival will be held at the Brisbane Showgrounds, 600 Gregory Terrace, Bowen Hills QLD. Tickets cost only $139.90.
If you're planning to attend the Future Music Festival, you may want to book our Spring Hill Brisbane Accommodation. Our resort is less than five minutes away from Brisbane Shwogrounds. Don't miss one moment of this epic music festival.
We offer a selection of studio apartments, one bedroom apartments and two bedroom apartments. Ideal for couples, business travellers, friends and families, our apartments can be your home away from home. Our apartment amenities include cooking facilities, full laundry facilities, a television, DVD player, and a private balcony.
Our Spring Hill Brisbane Accommodation also feature guest facilities for your comfort and convenience. We provide free WiFi, free parking, gym, swimming pool, outdoor spa, compact tennis court, BBQ facilities and dry cleaning services.
For booking information, please visit http://summit.etourism.net.au
Image Source : Future Music Festival