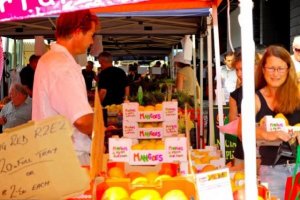 Treat yourself to a laid morning browsing the artisan products, fresh seasonal produce and gourmet treats on offer at the popular Jan Power's Farmers Markets at Queen Street Mall, just a short stroll from our Spring Hill apartments.
Despite what you might guess from the name, the market is not run exclusively by or for farmers. In fact, this lively outdoor market is open to everyone who loves fresh food and has recently been named one of the best gourmet experiences in the country by Australian Traveller Magazine.
There are around 100 stalls to explore, piled high with quality fresh farm produce such as mudcrabs, oysters, fantastic Queensland cheeses, beautiful flowers and tropical plants and boutique local wines. In between picking up a few bargains, you can check out one of the market's live cooking demonstrations from renowned local chefs for culinary inspiration.
Market traders come to Brisbane from all over the region to showcase their wares each week and everything on offer has been freshly baked, bottled, dug up or caught by the person who serves you. Come along and see why this market has got national food lovers talking!
The markets take place on Wednesdays between 10am-6pm on Queens St Mall (Bridge End.)
Find out more at: http://www.janpowersfarmersmarkets.com.au/
Image Source : Geek Philosopher