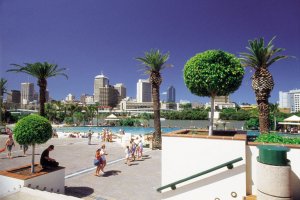 Up to some holiday travels and escapes? Don't know yet where to go to spend your next travel destinations? Well, we at Summit Apartments invite you to come and see the beauty and hidden treasures of Brisbane. Our luxurious yet affordable Brisbane Short Term Accommodation is the most sought after holiday package – bundled with perks and lots of fun.

The Precious Gems of South Bank

Known as an ultimate recreational precinct in Brisbane, Queensland, Australia, South Bank takes pride of its picturesque beauty and charm, lush subtropical gardens, green and snug sceneries, rich cultural heritage and educational district. One of its popular features is its being a haven for good foods and other gourmet delights. Its bunch of restaurants, bars and cafés never fails to satisfy their diners.

Cuisines vary from one to another – Modern Australian, Mediterranean, Russian, Italian, Indian, Malaysian, Turkish and Japanese. However, each cuisine has its own distinct flavour and texture that everyone will surely love. And do you know what's best about this dining fad? These palatably delicious chefs' creations are served with much passion and bliss – wanting you to be happy and satisfied.

Dine in, Win Great Prizes and Share with Your Loved Ones

This luxurious and fine dining precinct offers all the foodies out there such a great holiday deal. South Park is giving away cool and amazing prizes and perks. When you spend at least $15 or more at any participating restaurants, you will get an entry card that entitles you to join the promo and a chance to win a fabulous and delightful dinner for six at any of Little Stanley Street's restaurants. This offer is available and open, seven days a week until August 31, 2014.

See, your quick yet fun and memorable Brisbane Short Term Accommodation can be a full blast and a pleasurable holiday escape only if you choose us to be your travel partner.

Visit us at http://summit.etourism.net.au/ for fast and easy online bookings!