Posted in
Accommodation
@
Jun 23rd 2015 6:29pm
- By Administrator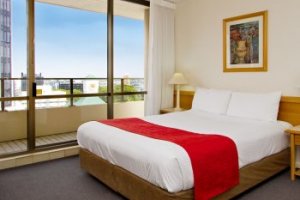 If you are planning a holiday on the Gold Coast, be sure to book our resort. Experience world class entertainment as well as breathaking natural surroundings. Close to some of the most popular attractions, have a wonderful holiday at our resort.
Budget travellers will be glad to know that we have special promos. Save money and spend more on shopping and dining. Our promos are available for a limited time so book early. Rates vary, so check our website for the latest updates.
We offer a great selection of apartments. Choose from our studio apartments, one bedroom apartments and two bedroom apartments. Our apartments are fully self contained and complete with everything you will need to have a relaxing holiday. Our apartment amenities include free WiFi, fully equipped kitchens, refrigerators, cooking facilities, dishwashers, full laundry facilities, private balconies, television, DVD players and more. Whether you are travelling on your own, with your family or with a group of friends, book your stay at our Spring Hill Apartments. Cook up a storm and enjoy our full kitchen facilities. Enjoy amazing 360 degree views from our balcony. Use our free WiFi to chat with family and friends. Keep up to date with the latest news. Check up on work even when you are on holiday. Our free WiFi makes it easy for you to stay connected with your loved ones wherever you are.
Aside from our fully furnished apartments, we also have fine guest facilities. Our facilities include free WiFi, free parking, a gym, a swimming pool, an outdoor spa, a compact tennis court, barbecue facilities, and dry cleaning service. Take a leisurely swim in our pool. Stay fit and fabulous by working out at our gym. Host an intimate barbecue for your loved ones using our barbecue facilities and entertainment area. Invite your friends to play a fun round of tennis at our tennis court.
For booking information, please visit http://summit.etourism.net.au