Posted in
Local Events
@
Apr 9th 2015 1:24pm
- By Administrator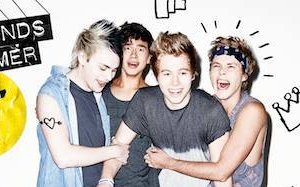 Hot on the heels of selling out two shows at London's iconic Wembley Arena, the chart-topping Sydney boys are heading out on the road to play their first-ever headline Australian and New Zealand arena shows, touring in support of their recently released self-titled #1 smash hit debut album.
Fans will need to move fast to secure tickets; the band's 'There's No Place Like Home' seven-date Australian tour last May sold out within minutes, with many fans missing out on tickets despite second shows being added in both Melbourne and Sydney.
Currently playing stadiums around the world as special guests to One Direction, 5 Seconds of Summer's recently added UK arena tour 2015 has now sold out. Previous UK and USA dates have all sold out in less than five minutes.
5 Seconds of Summer – Luke, Calum, Michael and Ashton – have conquered not only home-grown audiences but also those of far flung lands. Their highly anticipated gold-accredited, self-titled album, debuted at #1 in nine countries including Australia and New Zealand, and #2 in the UK and Sweden.
Their debut single charted at #2 on the US Billboard charts and their highly anticipated US album release next week will be supported by performances on Kimmy Kimmel and The Today Show. The album is now the highest selling pre-order in Universal Music Group history. The album also peaked at #1 on iTunes in 71 different countries, heading straight to the #1 spot on iTunes in Australia and the UK.
Catch 5 Seconds of Summer on June 23, 2015 at Brisbane Entertainment Centre.
If you are planning to watch 5 Seconds of Summer, you may want to book our Brisbane Serviced Apartments. Our resort is just a short drive from Brisbane Entertainment Centre.
We offer a great selection of studio, one bedroom and two bedroom apartments. Our apartments are fully furnished and complete with everything you will need.
Aside from our elegant apartments, we also have a range of fine guest facilities. Our guest facilities include free WiFi, free parking, gym, swimming pool, outdoor spa, compact tennis court, BBQ facilities and dry cleaning service.
Be sure to watch 5 Seconds of Summmer this June and book your stay at our Brisbane Serviced Apartments.
For booking information, please visit http://summit.etourism.net.au
Image Source : 5 Seconds of Summer